Program: MyVIPSavings.com
Stand Out from the Crowd. Give Your Business a Competitive Edge by Adding Value for Your Customers.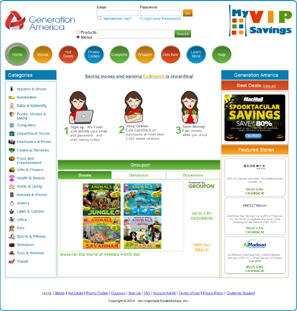 MyVIPSavings.com offers your business an amazingly effective way to stand out from the competition by providing additional value for your current and prospective customers, resulting in enhanced customer loyalty and referral business. Your customers and prospective customers will love the conveniences, exclusive savings, and CashBack dollars they receive when they make purchases through your MyVIPSavings.com custom shopping site.
MyVIPSavings.com offers your customers exclusive discounts and offers at over 2,500+ of the nation's leading online retailers. And not only will MyVIPSavings.com provide substantial savings on their online shopping, MyVIPSavings.com extends that savings and convenience even further with the Extras Savings program.
Extra Savings offers:

Printable, manufacturer's coupons;


Free Prescription Cards offering 10% to 85% off prescriptions at over 60,000 pharmacies nationwide;


Discount health and lifestyle benefits including:
Aetna's Dental Access Plan with 15%-50% discounts at over 125,000 participating dentists
LifeLock Identity Theft
Coast to Coast Vision Care Network
And many, many more!
Plus every time they use your custom-branded site, your company's branding is prominently displayed, reminding them that your company values it customers.
Program Platforms
Our custom-branded shopping sites can be used to:



Motivate and reward employees customers, or members.


Strengthen the power of your brand


Generate new revenue streams


Increase customer loyalty and referrals


Help you stand out from the crowd